Go West Young Man!

Please join me in congratulating Los Angeles Fire Department Auxiliary Communications Service (ACS) Member Michael Schlenker (KD6BAC) on his appointment as West Bureau Communications Unit Leader. Michael will replace Barry Colston (KG6NWJ) who stepped-down due to time contraints. We thank Barry for his service as the leader of West Bureau and look forward to working with him as the Battalion 4 Communications Unit Leader.

Michael has shown his leadership skills as Battalion 10 Assistant Communication Unit Leader and as the LAFD Foundation Liaison, a position he will continue to hold. Michael has been instrumental in growing Battalion 10 and in raising funds for ACS infrastructure improvements. ACS Staff is convinced Michael will bring the same leadership to West Bureau and will grow Battalions 4, 5, and 9 and assure that the West Bureau is well prepared should ACS be activated in a communications or other emergency.

Salute the New Generals!

Please join me in congratulatiing ACS Members Ted Fernandez (KJ6VSS), Kimberly Hee (KJ6VSU) and Jason Ho (KJ6VSV) who all earned their General Class Amateur Radio Licenses on June 15, 2017. The three passed the General Class examination after taking an Upgrade class taught by ACS Member David Malin (AA6RV) at The Port of Los Angeles. Thanks to David for providing the class! Hopefully, we'll see all three operating HF at the upcoming ACS Field Day event at North Valley Station!

FCC Makes Dramatic Changes To FRS and GMRS Radio Services

On April 27, 2017, the FCC announced long-awaited changes to the FRS and GMRS Radio Services. The changes seem to be aimed at making a clearer distinction between the two services. The original 2010 proposal would have eliminated the GMRS license while significantly reducing GMRS capabilities. In contrast, the new rules increase the performance of unlicensed FRS Radios while maintaining current GMRS performance and licensing requirements.

Some of the highlights are as follows:



* The FCC will no longer certify combination FRS and GMRS devices

* FRS radios will be allowed to transmit at as much as 2-watts PEP

* Existing devices that transmit with 2-watts PEP or less will be reclassified as FRS Radios

* Existing devices that transmit with more than 2-watts PEP willl be reclassified as GMRS Radios and will require a GMRS license to operate

* The term for GMRS licenses will be extended from 5-years to 10-years, with the fee increasing accordingly

* Digital transmissions will now be allowed on GMRS (previously allowed on FRS only)

* Both the FRS and GMRS Services will get additional channels

These are just a few of the changes in the new rules. There were also changes to the CB radio service including officially allowing DX transmiission via CB (previously CB had been limited to 155.3-miles).

Click here for the ARRL article on the changes.

Click here for the full text of the FCC rules.
---
CHP Issues Opinion on New "Handsfree" Driving Law

The California Highway Patrol has issued instructions to all CHP Offices Statewide as to how the new "handsfree" driving law should be interpreted. The good news for amateur radio operators is that the CHP is instructing it's Officers that the new law does not apply to the use of mounted radios to which a mircophone is connected via wire. To quote the memo that was distributed to all CHP Offices, "For the purposes of Section 23123.5(f) CVC, a radio installed and mounted in a vehicle with a wired hand microphone (e.g., business band or citizen band [CB] radio) is not considered a wireless communication device, nor is it considered a specialized mobile radio device, and therefore is not subject to enforcement under this section." The CHP Advice follows a productive meeting between the staff of the bill's author, Assemblyman Bill Quirk, ACS Member and ARRL Southwest Division Vice Director Marty Woll (N6VI) and ARRL Volunteer Counsel, Len Shaffer (WA6QHD).
While this type of memo is typically sent to all law enforcement agencies within the State, it is likely that many Officers may not be aware of this opinion. It would be a good idea for all amateur radio operators who have mobile radios to carry a copy of this memo with them as they drive. While it is appropriate to offer the memo to an Officer who has stopped you for talking on your mobile radio, it is rarely productive to argue with an Officer who is intent on issuing a citation for the "violation". In that case, however, it is likely that the memo would be an excellent defense in Court. Click Here to download a copy of the CHP Memo.
---
New ACS Staff Positions Added

To better serve the City and our members, ACS Staff has added three new positions to our General Staff. First, we've added a liaison to the LA Fire Department Foundation. The ACS-Foundation Liaison will be responsible for maintaining contact with the Foundation and for assisting those parties that wish to make a donation or grant to ACS via the Foundation. Because Battalion 10 Member Michael Schlenker is the member who learned that ACS could accept donations and grants via the Foundation, Michael was appointed to fill the new position.
The second position is a liaison between ACS and other EMCOMM groups. The ACS-EMCOMM Group Liaison will be responsible for contacting the other EMCOMM groups in the area and for working-out a plan for interoperability. Initially, this will be a pretty big undertaking. ACS Staff chose two relatively new members to handle this new position. Both have excellent organizational skills and enthusiasm for the undertaking. The ACS-EMCOMM liaison will be Gary Hanfling, KM6AEQ and his assistant will be Deborah Okoniewski, KM6AEP.
The third position is a liaison between ACS and and the Los Angeles City Emergency Management Department, the Department for which ACS ultimately works. The ACS-EMD Liaison will be responsible for maintaining contact with the EMD. The ACS-EMD Liaison will be our point-of-contact with the City Emergency Operations Center, as well. David Malin, AA6RV, has been appointed to the position. As an Emergency Manager for the Port of L.A., David is familiar with the workings of the EMD and will be a vital part of the ACS Management Team.
---
ACS Staff Makes Uniform & Equipment Changes

In the past few months, ACS Staff has made some changes to our uniform and added some equipment to our list of standard equipment. In the uniform category, we've made significant changes to our shirts. First, as per new LAFD specifications, name tags will no longer be acceptable. This has been determined to be a safety issue. Going forward, embroidered names will be required. This will be done to standard LAFD uniform specifications. Members have until the end of 2016 to make this change. In addition, our patch arrangement has changed. The former "Unit" patch has been eliminated and will be replaced on the lleft shoulder with the LAFD patch (blue backrground). On the right shoulder will be the new "unit" patch. Thanks to Ted Fukushima who designed the new patch. This patch is depicted on the upper right corner of this page. Most uniform stores and the LAFD Musuem sell the LAFD patch and the "unit" patch is available through most Bureau Communications Unit Leaders and some Battalion Unit Leaders. Most uniform stores can remove the old patch and replace it with the new patches. There is no timetable for replacing the patches, but members are encouraged to update their uniforms as soon as possible.
As for equipment, Members are now requiired to have basic Personal Protective Equipment for responses to CERT and other field assignments. Members must have eye protection, N95-type masks, leather gloves, and helmets. We have chosen a dark blue ERB Omega II helmet (or similar) so as not to conflict with other LAFD helmet colors and to match our uniforms. The helmet specifications are available on the ACS Yahoo Group. Helmets are available from Amazon.com and SOS Survival Products and other sources. We've identified a decal scheme for the helmets and have the decals ready for distribution to members. This and all uniform specifications will be included in the updated Field Operations Guide which is being finalized now.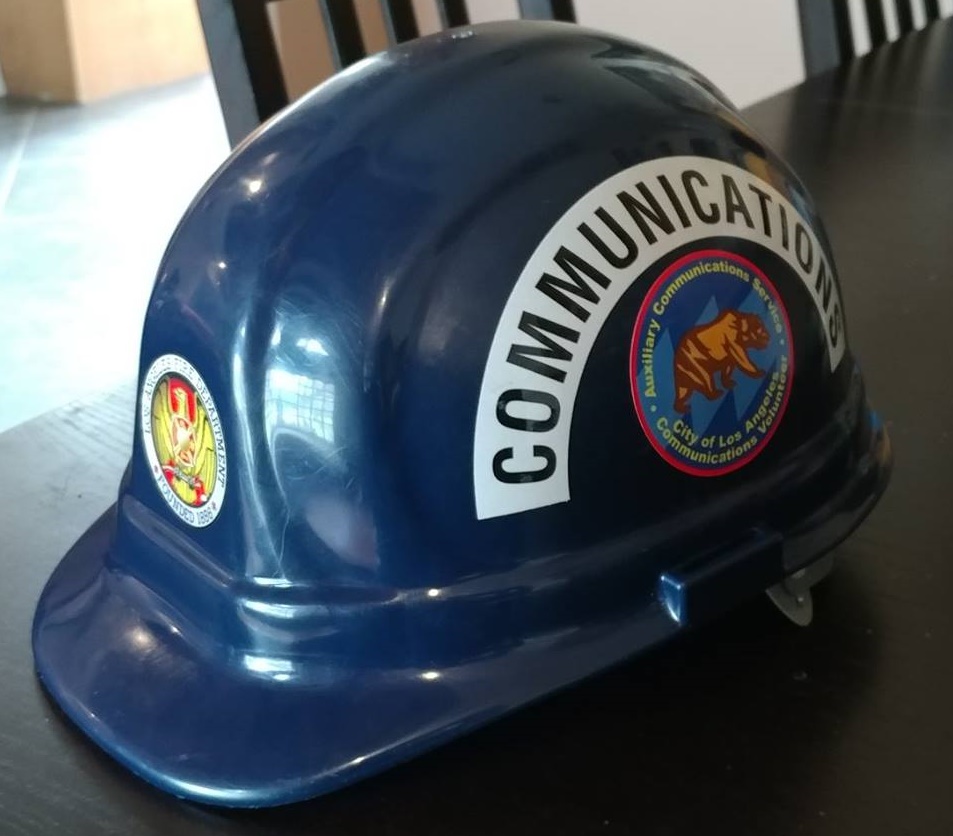 ---
ACS Equipment Upgrades
As most of our members know, the radio equipment in ACS's fixed locations is a combination of donated equipment and surplus commercial equipment that members have cobbled together to make due. Some of our radios only cover parts or our Comm Plan as they were designed as commercial and not amateur radios. Many of our antennas are old and hurting performance. Thanks to Battalion 10 Member Michael Schlenker, we've learned that we can accept tax deductible donations and grants to help us update our old equipment and to add equipment at new key locations. We've had great success with obtaining grants from several Neighborhood Councils to purchase or update equipment within their Council areas. So far, we've updated equipment at our Commmunications Trailer at Fire Station 88, at North Valley Station, and we've purchased radios to go in the BellAire-Beverly Crest area in Battalion 10. We've also added equipment to Fire Station 109, which could prove to be a key location as it sits on Mulholland Drive West of the 405. We're working on a standard installation package that would be universal to most alll Fire Stations. We're hoping that this willl reduce the paperwork load as we work to obtain grants from Neighborhood Councils to add antennas to all Battalion Fire Stations.
As many of you know, our Communications Motorhome is old and starting to become unreliable. ACS Staff is actively working to determine the specifications for a new Communications Vehicle, likely a trailer and tow vehicle. We're looking for funding sources and potential donors. If you have suggestions, contact your Bureau Communications Leader.
---